To be honest, I haven't really been playing with my accessories as of late. Actually, it's been quite some time that I haven't really taken an interest in really coordinating/styling my outfits with different accessories. I've been in a very minimal, effortless, and easy mindset when it comes to them. However, i've been relying on three different pieces. My current, top three that I've been constantly sporting and pairing with my outfits are these below.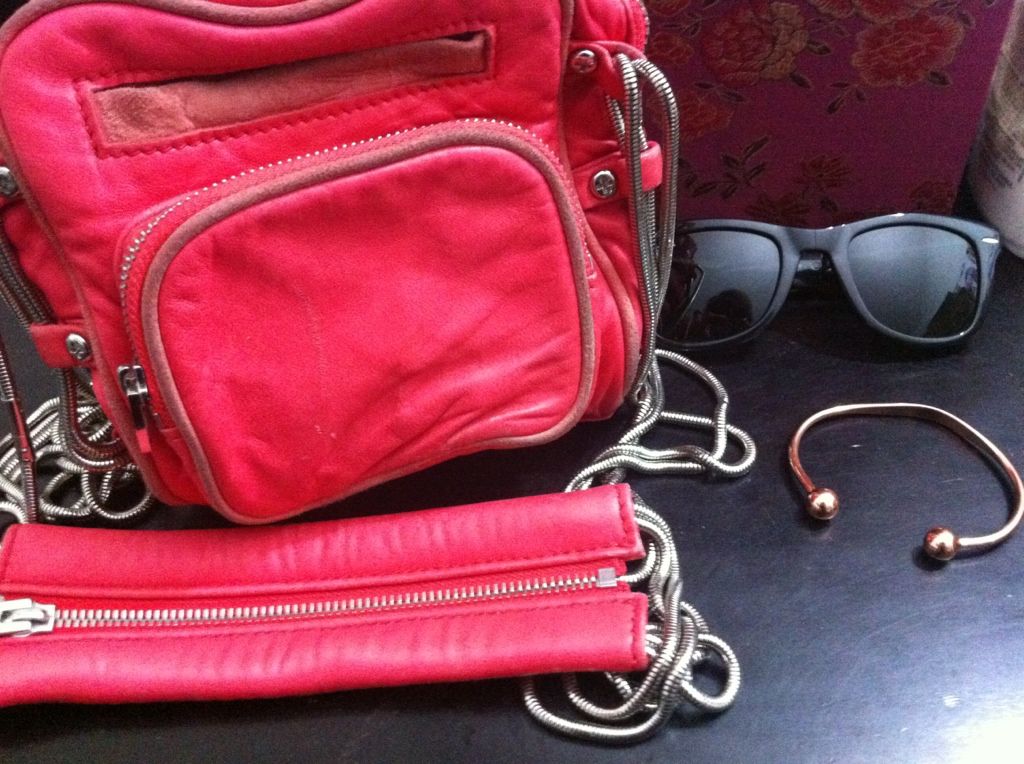 (Alexander Wang Brenda mini camera bag. Rayban wayfarers. Rose-gold bracelet)
That bag is small and easy for those on the go. The only issue is that it's in a bright red, so it absolutely makes it hard what to pair it with. The bracelet I feel goes with so many of my clothes, especially since I'm currently keen on black and navy blue right now. Plus, rose gold is everything for my at the moment. The wayfarers are just one of those pieces that go with everything. Ever since those 80s films I've loved growing up watching thanks to my sisters, I've grown to have such an admiration for this particular style. I'll always find them cool and effortless.
UPDATE!
Also, I feel like my makeup techniques have improved tremendously. It's so funny because I feel like I've replaced my obsession with fashion with makeup lol. I feel like I can wear stale outfits as long as I have an immaculate put together face. I've been going for a more Andrej Pejic/androgynous kind of look as of late.
I don't even know what that means lol. I'm letting my hair grow longer thanks to Zach Robinson aka the flawless bitch from the Saint Laurent mens runway show for Fall/Winter 2013 aka drummer from the band Swim Deep.
Oh, and good news! Lately, things have been going really good. Like, really good. I was going through a tough time ever since my father had to be hospitalized earlier this year. Thankfully, he's doing much better now and it's as if he never had surgery with his successful recovery. Lately, things are just going great. I feel good, I'm getting so many opportunities lately too. I just got a new job, I had an interview yesterday with a superb brand that is sold at Barneys, and I got another interview for a job for a fantastic brand next week. My only issue is balancing all these things out. With time going by so fast, I just hope I can accomplish so many things before the summer ends.